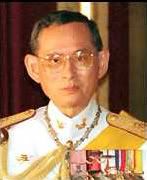 His Majesty, King Bhumibol Adulyadej is the most respectable person in the world. Instead of enjoying life in the Royal Palace, His Majesty chose to travel all over Thailand, looking into the problems and needs of all villagers. His Majesty spend most of his time solving their problems by inventing new methods of agriculture and so forth. His Majesty patent all his inventions, not for monetary gains but for his people to use free of charge.
The kind of respects and love showered on His Majesty, by the people of Thailand is rare in this world.
His Majesty, The King, is only a few that I respect most. Though a foreigner, I would like to join Thailand in celebrating the King's 60th anniversary on the throne.
Long Live His Majesty, King Bhumibol Adulyadej !